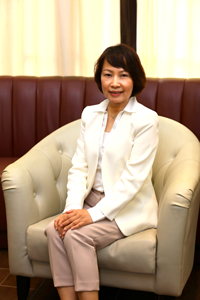 I am honored to assume the role of President of The Hong Kong Society for Public Health Nursing ("The Society") for the term 2018-2020.
Learning from history, public health nursing has established itself as a specialized stream of nursing practice in the community unbounded by hospital walls since early 1950s, with its first class of public health nurses (PHN) graduated in 1954. Over the past 64 years, PHN has demonstrated excellent results in actualising the various health needs of the individuals throughout their life stages from cradle to grave.
The establishment of The Society has been propelled collectively by the past presidents and members of the Executive Committee. Over the past seven years, members of the Executive Committee and members of The Society have served and supported the community by actively participating in community activities and/or by providing a variety of public health nursing services that meet the objectives of The Society. I am thankful to my predecessors for their leadership and outstanding contributions to The Society during their presidency, as well as the members of the Executive Committee. I am inspired by their commitment to The Society and all of their achievements.
For the next two years, The Society will continue to address the unmet exercise in collaborating with The Hong Kong College of Community and Public Health Nursing to set the standards of specialist training to our future Fellows of public health specialties. Our accomplishments will be focused in promoting health of the public and strengthening competencies of public health nurses through professional development and regulation of specialist public health practice.
I always believed that the power of collaboration is crucial for success in my professional career. From my past experience, I realized that one cannot develop all the competencies fast enough on one's own. In fact, if one do not collaborate, ideas will be limited to one's own abilities, hence will not be able to serve clientele and achieve the anticipated impact. I pledged to collaborate and work with Council members to promote The Society's mission to our members, and to make it known to other organisations. With their continued support, I am confident that we will be steadfast in addressing the future challenges, though pressing sometimes.
To this end, I urge every member to become involve in The Society activities and spread the word across colleagues. I encourage more public health nurses to join to become members and together meeting the mission of the Society.
On behalf of the Executive Committee, I look forward to working with everyone for the good of our community.
President
LAU Yuen-ling
2018-2020
The Hong Kong Society for Public Health Nursing