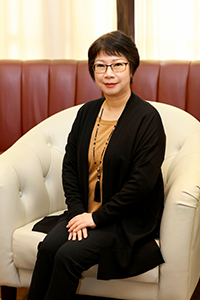 Being the President of The Hong Kong Society for Public Health Nursing of the term 2014-2016, I am glad to lead the Executive Committee members to fulfil the roles and responsibilities of The Society.
Allied with, and being a member association of the Hong Kong College of Community and Public Health Nursing, I pledged The Society will devote great effort of its work to the regulation and development of advanced practices in public health nursing specialty, and continue to foster partnership with other health professionals, counterparts and stakeholders in contributing to the prevention and control of public health in the community at large.
To realize The Society's vision, mission and objectives need solidarity and steadfast support of all Fellows and public health nurses. I look forward that the Subcommittees exert effectiveness by affirming implementation of its functions through membership recruitment, promotion and education, research and web knowledge, as well as setting examination standards to fulfilling the professional roles and standards required of becoming Fellows of public health nursing specialty.
Let's unleash our propulsion power, perseverance, courage and exertion to achieving The Society's functions.
Victoria Kwong
President
2014-2016
The Hong Kong Society for Public Health Nursing